Deborah's Story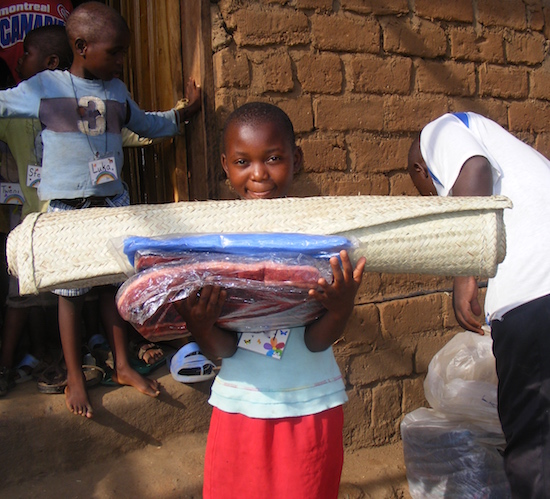 Deborah Phiri was one of the first children registered in our Ancient Path Kids program in Kaliyeka Township in November of 2009. Her father had died just the month before. Deborah was ten years old – the first born child in the family, the only daughter, with two younger brothers.
In Malawian tradition, when the father dies, responsibility for the welfare of the family falls to the firstborn. Deborah was still young, attending primary school and working on her education – so her mother took on the full burden for her children, selling firewood in the streets of Kaliyeka to survive.
Deborah explains: "When my father died it was a terrible moment for me. I was suffering alot of anxiety and stress. I worried about my education, about my future and, because I was the firstborn, the future of my mother and brothers. When I joined the Ancient Path program, started to learn the word of God and interacted with my friends in the program, my life began to be healed from depression and anxiety. I knew I wasn't alone. As I am speaking now, I feel good and excited about my life."Deborah is grateful that, not only have her basic needs been provided for, but she has received an Ancient Path scholarship for high school students – which pays for her school fees, school uniform, shoes and books. Deborah is also involved in all of the arts training programs and is part of our vocational sewing program at Ancient Path Malawi. Between her educational opportunities and learning a solid trade, Deborah believes this is a turning point for her family that will raise their standard of living here in Kaliyeka.
Deborah considers it a great privilege to be part of Ancient Path and does not take anything for granted.  She says – in this program I have found a family of brothers and sisters. My spiritual life is growing every day and I am beginning to understand that I am special in the sight of God. I also feel special to the people around me – I feel my talents are being realized and my future is clear. Before Ancient Path started here in Kaliyeka it was like we were all covered in thick darkness but now it feels like we have started a new life. The light has started to shine in our hearts and in our whole Kaliyeka community.

Deborah says it is her prayer that Ancient Path will continue to grow and affect people's lives, not only in Kaliyeka Township, but also in America and around the world.
To contribute to the Ancient Path Malawi school scholarship fund or the vocational sewing program to help other young people like Deborah, click here. Simply note how you would like your funds directed. Or you can write a check to Ancient Path and send it to:
Ancient Path
P.O. Box 38045
Olmsted Falls, Ohio 44138
Ancient Path is a 501 (c) 3 non-profit organization and all contributions are tax deductible. Ancient Path is also a registered NGO in Malawi.