Blessings M'Tambo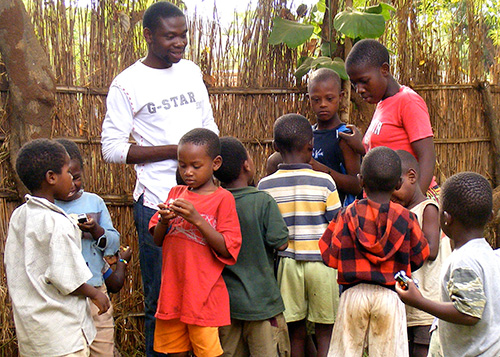 Blessings Mtambo is the accountant for Ancient Path's Chifundo Program in Kaliyeka Township, Malawi. This is his story, in his own words….
I was born in Chililabombwe, a relatively small town in Zambia, on 18-02-85. My father migrated to Zambia in the 1950's to work in the copper mines and when he retired some thirty years later, the family moved back to Malawi.
I had much difficulty in my early primary classes.  At that time I did not know the alphabet up until grade 2. I started getting frustrated and hated going to school because whatever was happening there was like a mystery to me. I could hardly write my own name and always got zero marks on the small class tests. My poor performance started pushing me away from school. I was so afraid of my class teacher and even friends who seemed to have it so easy in class – I thought of  them as aliens.
I later on started to associate with boys who were in higher classes ahead of me because I was more comfortable with them since they never thought of me as a laughing stock like my classmates did.
One day I conquered my fears when I explained all of this to a friend who was 2 classes ahead of me. He was shocked to learn that at that the age of 8 I still did not know the alphabet at all. He wrote me an alphabet ,which I memorized within a week, and later on taught me some reading and writing skills. It was so quick that within one schooling term I rose to the rank of second in my class of 60 students.
My secondary school days were great because I could hardly fail. My poor performance in the primary school taught me a lesson that I wouldn't forget but I never stopped being afraid of my class teachers and my friends. I remember one friend asked me why I was so much quieter at school than at home – he could see the difference.
When I was in higher secondary school, my passion to study financial accounting was fuelled by my brother Martin Mtambo who was, by then, studying accounting at the University of Malawi. Martin is my role model because, for as long as I can remember he has always been different. Martin is smart, focused and God fearing. Although he has never uttered a word to me telling me what to do, I know what to do just from watching his life.
I attained my first professional certificate in financial accounting in 2008 Certified Accounting Technician (CAT). I later in 2009 joined Malawi college of Finance where I finished my Technician Diploma in Financial accounting in the year 2011. I'm currently at the skills level of the Association of Certified Chartered Accountants (ACCA).
I have worked with Warmheart Travels as a travel guide and an administrative assistant. I later worked for Marhaba Investment Limited as an accounts assistant. The duties of the positions I held in these two companies included preparing final accounts for the business to the tax authorities of Malawi (MRA). I sometimes represented the companies at the industrial relations.
It is also my privilege to serve as the accountant for Ancient Path's Chifundo program here in Malawi. My brother Martin is treasurer of the Ancient Path Board of Directors in the USA and my brother Moses is the Chifundo program director here in Malawi.
During these few years of my career in accounting I have discovered that to be the best accountant is not only about the qualifications, accuracy, speed and analytical skills. It is honesty that makes the best accountant.