Moses M'Tambo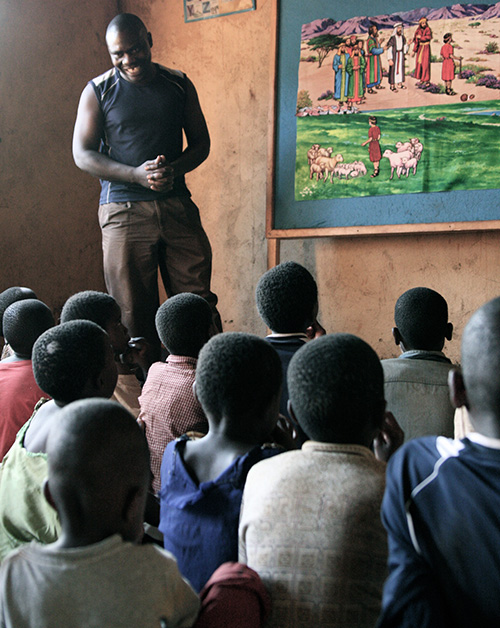 This is the story of Malawi Chifundo Director, Pastor Moses Mtambo, in His own words:
I was born in Zambia on 9th April, 1974 in a family of ten children – three girls and seven boys, though two boys and one girl have since passed away. My father was born of the Yao tribe in Mulanje Disrict in the southern part of Malawi and my mother was from the Tonga tribe Nkhota-kota central part of Malawi along the lake shore.  As a Yao my father was raised a Muslim and my mother converted to Islam when they got married – so my siblings and I were raised in a traditional Muslim home. Though my father passed away in 1993, my mother is still alive.
My educational background is fascinating and very difficult to explain; but for the sake of information, I will try to explain some very important points of my previous life.
My father had migrated to Zambia in the early 1950's to work in the copper mines so, at the age of six, I started my primary school education at Ming'omba Primary School in Zambia.  When my father retired from the mines six years later we returned to our homeland of Malawi.
I was twelve at the time and my brother in law, Reverend Steven Aluba Mbwana, sent me back to school to start again my primary education at Kawale Primary School in Lilongwe, Malawi. I was entered into a lower class of standard four, however, which was a great disappointment to me. I grew very discouraged and finally dropped out of school.
From that time forward, the whole world became my enemy – my parents, brothers, relatives, friends and even the entire community. The bitterness against everyone drove me into a sinful life. I thought that the only way to be happy was to use drugs and alcohol, steal and get into many fights.  This chaotic lifestyle lasted from 1987 to 1993.
It was in 1993 when I returned to Zambia to visit my sister that I met up with my older brother Martin, who was on holiday from David Kaunda High School in Lusaka.  During this visit, Martin explained that he had converted to Christianity. As he told me about the love God and the death of Jesus, I knew in my heart that I must give my life to Christ.
In 1994 I started to sense that the Lord was calling me into ministry. It was very difficult for me to accept because of my educational background and a deep feeling of inferiority which dominated my heart for a long time. By the grace of God through prayer, I managed to overcome my fears. In  1995, I enrolled at Assemblies of God School Theology to study for a Diploma in Bible and Theology. Because I could not afford the school fees, I could not finish my studies at the right time in 2000, but I finally graduated on March 31st 2007.
Since I dropped out of school in standard four, I consider it a miracle that the Assemblies of God School of Theology Administration accepted my application to be a student. To me it was just a miracle!
In 2004, I was sent to Ntcheu District to pastor a church at Kambilonjo Trading Centre as part of practical of my studies. After graduating in 2007, I was sent to Mozambique has a missionary though I did not stay long there. I came back to Malawi and worshiped with Kawale Harvest Temple for one year and then re-located to Kang'oma Assemblies of God. In 2009, I became the Malawian Director of Ancient Path's Chifundo program and the following year I went back to school to do my Malawi School Certificate of Examination, which I passed very well.
Currently, I am the pastor at Kang'oma Assemblies of God, Deputy Presbyter of Tsabango Section, the Director of Chifundo program in Malawi and also a student at Assemblies of God School of Theology evening class doing my Bachelor of Art in Religious Education with Global University.
This explains a bit of the story of my life.